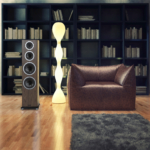 Now in stock is the new Wharfedale 'Reva' Series of speakers…
"Reva is the latest range of Audiophile speakers from Wharfedale, the most famous name in British loudspeakers.
Britain has long been recognised throughout the world as being the home of loudspeaker technology in terms of innovation and quality. This reputation has built up over many years by some of the world's most famous loudspeaker manufacturers. Wharfedale, established over eighty years ago has always been at the forefront of developing this reputation.
Designed from the ground up to offer state-of-the-art tonal accuracy and musical detail, Wharfedale Reva has been born out of a combination of extensive research into unique driver and cabinet technology, combined with a passion for music.
From our proprietary glass fibre weave bass and mid range drivers to the 7 layer piano gloss lacquer finish, Reva Series is stunning inside and out and will bring excitement to your music collection and home cinema experience."
Reva 1 £449
Reva 2 £599
Reva 3 £999
Reva 4 £1299