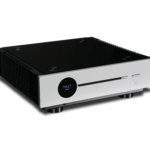 We are pleased to announce we now have on stock the brand new Quad 'Artera Solus' "All In One" system. Retailing at £1499, the system is packed with advanced technology and Quad superior sound quality!
"The Artera Solus combines a CD transport, DAC, preamplifier and 75W power amplifier in a single compact chassis, with extensive connectivity options including Bluetooth wireless streaming. Alongside the conventional CD playback, the Solus has 2 analogue inputs and five digital inputs, capable of handling PCM data up to 32-bit/384kHz, as well as DSD64/128/256."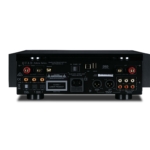 "Designing the Artera Solus proved to be a great test of ingenuity for Quad's electronics engineers. I've been involved with the design of Quad electronics for more than 25 years and was determined that our first all-in-one system should not be a compromise, said Jan Ertner, who led the development team. It was a real challenge to make the individual parts – CD transport, DAC, digital streaming, analogue preamp and power amp – perform to the level of a full separates system in keeping with Quad's high standards, all packed into a single Artera Series chassis. Placement of components has been especially critical, together with careful routing of the four-layer printed circuit board, use of balanced circuitry to minimise interference and extensive power supply isolation.
Combining the assurance of tradition with the buzz of innovation, the Quad Artera Series is the lifeblood of high-performance audio entertainment for modern music lovers. The new Artera Solus is available from February 2018, with a choice of black or silver front panels and an RRP of £1,499.95. The Bluetooth-equipped model will be joined this autumn by a premium version, adding comprehensive app-controlled Wi-Fi network streaming facilities to the Solus's specification."
Why not book for a demo today!