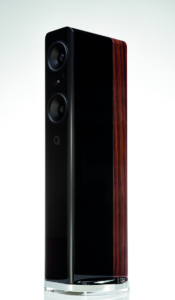 We are pleased to announce that we are now stocking the stunning Q Acoustics Concept 500 speakers! Why not book up for a demo today…

"Designed to bring a landmark live performance sound to the home, Q Acoustics' new flagship Concept 500 speaker is the most advanced, innovative and refined model from the brand that has been bringing speakers to the public since 2006.
Employing its rich pedigree and vast experience in the design, engineering and manufacture of class-leading speakers, these high-end, high performance floor standing speakers combine an interior-friendly profile with a dynamic, lifelike and powerful soundstage.
The Concept 500 speakers are easy to match with many hi-fi systems including modern one box solutions for true plug and play simplicity. The Concept 500 speakers deliver a sound far beyond what is expected of their price tag and allow everyone to enjoy high-end recording studio sound in the home.
The Concept 500 speakers offer a clean, minimalist design which means they blend seamlessly into any living space. Available in white or black deep piano gloss finish, these facades are paired with subtle strips of Italian pale oak or deep rosewood real-wood veneer at the rear for a sophisticated and distinguished visual cue.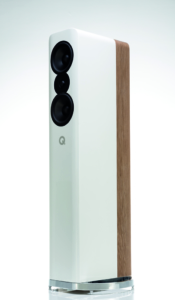 In keeping with its refined design the cast aluminium plinth base is neatly integrated into the cabinet with carefully engineered feet for a secure coupling to any surface. The result is a secure speaker that minimises unwanted acoustic reflections that can colour the audio performance in a busy listening environment.
Based on technology from Q Acoustics' award winning ranges of speakers, the Concept 500 speakers use patented audio innovations that deliver outstanding fidelity. Unique Dual Gelcore™ construction offers a three layered cabinet configuration with inner cabinet walls bound together by a non-setting gel. This special bespoke adhesive dissipates high-frequency vibrations, generated by the moving drivers, into heat to maintain a focused audio performance free of any resonance.
Q Acoustics' audio engineers have cleverly applied measures to further eradicate performance-effecting vibrations. Extra bracing is fitted to cabinet areas affected by low-end frequency panel resonance while unwanted pressure gradients that commonly cause internal reverberations in tall loudspeakers are eased using specially designed Helmholtz Pressure Equalisers (HPE™).
Driver technology has also been enhanced to deliver the Concept 500's special live sound. The higher frequency driver is completely isolated from the cabinet eliminating any vibrations transmitted between them while the mid/bass voice coils boast a larger-than-normal diameter to enable increased drive and power handling."
Technical specifications:
Frequency Response: 41 Hz – 30 kHz
Nominal Impedance: 6 Ω
Minimum Impedance: 3.7 Ω
Recommended Power: 25 – 200 W
Distortion (120 Hz – 20 kHz): 0.2%
Crossover Frequency: 2.5 kHz
Mid Bass / Driver: 2 x 165 mm
High Frequency Unit: 28 mm
Size (W x H x D): 400 x 1150 x 350 mm
Weight: 42 kg
Links are provided to adjust the high frequency: + or – 0.5 dB
The Q Acoustics Concept 500 speakers are available now
UK price: £4,000 (inc. VAT)