We are pleased to announce we have new stock from both Musical Fidelity and KEF:
Musical Fidelity M2si amplifier:
"The M2si integrated amplifier takes Musical Fidelity's peerless premium sound experience and applies it to a more affordable price point. Boasting trickle-down technology from the legendary Titan flagship model, the sound is well complemented by other high-end touches, such as the solid metal controls.
Delivering 76W per-channel into 8Ω (137W into 4Ω), the M2si has the power to drive a wide range of similarly-priced loudspeakers, including the more power-hungry models. But it's not just a question of power, as the M2si features a Class A pre-amp stage with its own independent power supply, coupled with a pair of discrete power amps. The end result of the advanced internal design means the M2si effectively offers the performance benefits of a pre/power configuration but with the convenience of a one-box solution.
The M2si slots in as the perfect amplifier for any system in part thanks to its six Line inputs. By leaving DAC, CD, streaming and phono tasks to external devices the amplifier is able to function as a pure analogue hub and delivers a sophisticated, highly engaging sound. For Home Cinema installations, the AUX1 input can also be manually switched to a Home Theatre (HT) through-put.
The M2si integrated amplifier and matching M2sCD CD player are housed in heavy metal enclosures and feature neat aluminium front panels – finished in silver or black. Control is effortlessly simple either via the supplied system remote or the clearly labelled front panel controls. But as well as being easy to integrate, a joy to behold and priced appealingly, what really sets the M2si apart is its ability to better the sonic capabilities of its rivals and sit comfortably amongst even more expensive, esoteric designs."
Key Features:
Powerful integrated amplifier

Class A pre-amplifier with dedicated power supply

Discrete power amplifier stage with dedicated power supply

Six stereo Line inputs (RCA)

Switchable Home Theatre (HT) input

Pre-amp output for bi-amping or similar (RCA pair)

Fixed line output (RCA)

SMD construction optimises noise levels

IR remote control

Black or silver finish

RRP: £799
KEF R3 Speakers: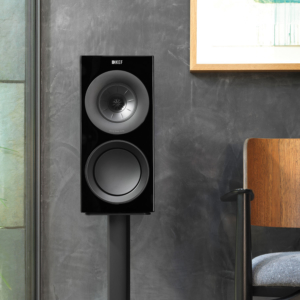 Best Standmount Speaker – AVTech Media
"Its totally 'together' presentation works across music genres, and has a weighty and well-controlled bass that everyone will love." (Hi-Fi News, Dec. 2018)
Product of the Year – Best standmount speaker – What Hi-Fi?
"Arguably the most complete standmounters available at this price, the KEF R3s are exceptional performers
DESIGN Three-way bass reflex
DRIVE UNITS Uni-Q Driver Array:
HF: 25mm (1in.) vented aluminium dome
MF: 125mm (5in.) aluminium cone
Bass Driver:
LF: 165mm (6.5in.) hybrid aluminium
CROSSOVER FREQUENCIES 400Hz, 2.9kHz
FREQUENCY RANGE 38Hz-50kHz (-6dB)
TYPICAL IN-ROOM BASS RESPONSE 30Hz (-6dB)
FREQUENCY RESPONSE 58Hz-28kHz (±3dB)
HARMONIC DISTORTION <0.3% 130Hz-20kHz (90dB, 1m)
MAXIMUM OUTPUT 110dB
AMPLIFIER POWER 15-180W (recommended)
NOMINAL IMPEDANCE 8Ohms (min.3.2Ohms)
SENSITIVITY 87dB (2.83V/1m)
WEIGHT* 13.5 kg (29.8 lbs.)
DIMENSION (H X W X D) 422.2 x 199.6 x 335.5 mm (16.6 x 7.9 x 13.2 in.) with terminal*
DIMENSION (H X W X D) 422 x 199.6 x 312 Cabinet only
FINISHES Black Gloss / White Gloss / Walnut
RRP: £1300