Now in stock are the Wharfedale Evo 4.2 (£599) and the Evo 4.3 (£999)!
"The new EVO4 represents the dawn of a new standard in hi-fi, from Wharfedale – the most famous name in British loudspeakers.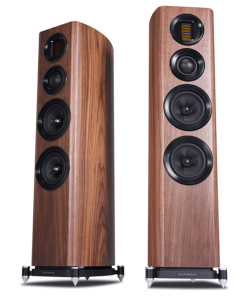 Following the concept of the best-selling EVO series that came before it, EVO4 represents the evolution of affordable high-fidelity audio. More than just a new edition, EVO4 also fuses the EVO concept with trickle down technology from the new flagship Wharfedale ELYSIAN series – and just like ELYSIAN, EVO4 pushes the boundaries of technology and performance of speakers within this price class. From the cabinet design to the materials employed in its distinct design, EVO4 stands head and shoulders above the competition.
Notably, the Wharfedale EVO4 series employs a specially engineered AMT (Air Motion Transformer) transducer for its proprietary, silky smooth high frequency reproduction. By design, the AMT allows for a higher volume of air to be moved during performance than with a convention soft dome tweeter. This higher-pressure action, encouraged by the principles of AMT design, offers an improved point-source HF reproduction with lower distortion properties than conventional tweeters. This is evident in the stunning and sheer clarity of the musical performance of all of the EVO4 series loudspeakers."