New in-stock from Roksan are the Attessa Streaming Amplifier and Turntable. Here is what Roksan have to say:

"Fully developed in-house in the UK, the new Attessa range features premium streaming technology, class-leading performance and beautiful industrial design. The range has therefore been designed to combine all the wonderfully complex sound of a class-leading hi-fi system with the simplicity most listeners crave – making it easier to connect with both devices, and with the people around you.

Great Hi-Fi is incredibly intricate, precise and complex. Fortunately, achieving it can be simple. For the Attessa range, we've used our wealth of technical expertise to deliver lifelike sound with all the depth and quality you could wish for. Yet we've managed this in a minimalist, intuitive design that couldn't be simpler to use.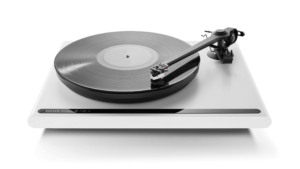 Designed to combine all the wonderfully complex sound of a class-leading Hi-Fi system with the simplicity most listeners crave – making it easier to connect with devices, and with the people around you. A home audio product which is not intimidating for the first time Hi-Fi consumer.

The built-in BluOS premium multi-room audio technology in the Attessa Streaming Amplifier supports 20+ streaming services and can stream up to 64 zones, all controllable via your smart phone. Minimalistic control dial provides single point of contact for both volume and input, and intuitive dial with haptic feedback, and a graphical interface. A wide variety of digital and analogue connections including Bluetooth® allows you to bring high quality audio to a large number of external devices including your TV or Games console. MaestroUnite setup for over the air updates and partnering of other devices to form a single Roksan system. A bespoke technology and app developed for Roksan. Fully developed in-house in the UK, the Attessa range features class-leading performance and beautiful industrial design.

All-in-one plug and play package including tonearm, cartridge and built-in phono stage. Using the same footprint, Attessa Turntable is a perfect match for Attessa Electronics."

CD Key Features:

Hi-Res music streaming with BluOS™ Premium Multi-Room Audio Technology which supports 20+ streaming services and can stream up to 64 zones, all controllable via your smart phone

The one touch dial control user-interface is both simple and intuitive to use. Select listening volume or source guided by a graphical interface incorporating haptic feedback to confirm your selection.

Three self-allocated BluOS presets directly available from the inputs list for instant access

Robust steel and aluminium construction with no visible aerials

A wide variety of digital and analogue connections including Bluetooth® and AirPlay 2

An integrated Moving Magnet phono stage allows the connection to a turntable without the need for additional boxes and accessories

A powerful amplifier capable of getting the most out of a variety of loudspeakers

SPDIF inputs will decode MQA encoded PCM streams including MQA CD's played back by the Attessa CD Transport

Designed and developed in-house in the UK

MaestroUnite setup for over the air updates and partnering of other devices to form a single Roksan system, a bespoke technology and app developed for Roksan

RRP £1495 (non-streaming version available at £995)
Turntable Key Features:
Designed, developed and assembled in the UK

Brand new easy to set up Unipivot tonearm featuring a composite construction and glass jewel pivot for low effective weight

Dana cartridge fitted as standard

Digitally controlled electronic speed control

Class leading factory calibrated speed accuracy with a microprocessor-controlled amplifier driving the turntable motor

Built in Moving Magnet switchable phono stage (active/passive) designed in-house for no compromise plug and play

Premium build quality featuring an isolated single plinth design with a high mass platter constructed from weighted glass and bonded aluminium edge dampener

Xerxes inspired isolation feet and chassis design to ensure stable playback

Compact footprint

Bespoke removable lid to keep dust away when not in use

RRP £995